Accommodations
Royal Swiss Tents
Our Royal Swiss tents are of the best possible high quality and are aesthetically done up. They have spacious bedrooms with well-appointed bathrooms and all the necessary as well as luxurious amenities with hot/cold running water.
All packages and stays include camel safari on twin sharing, cultural extravaganza, high tea with snacks, buffet dinner and breakfast. EXPLORE
Royal AC Cottages
These are our newest AC cottages made of the famous golden stone if Jaisalmer to give you a Royal experience. The cottages have all the luxurious amenities with well appointed bathrooms and hot/cold running water.
Packages and stays include camel safari on twin sharing, cultural extravaganza and folk dance performed by professionals, high tea with snacks, buffet dinner and breakfast. EXPLORE
Our Services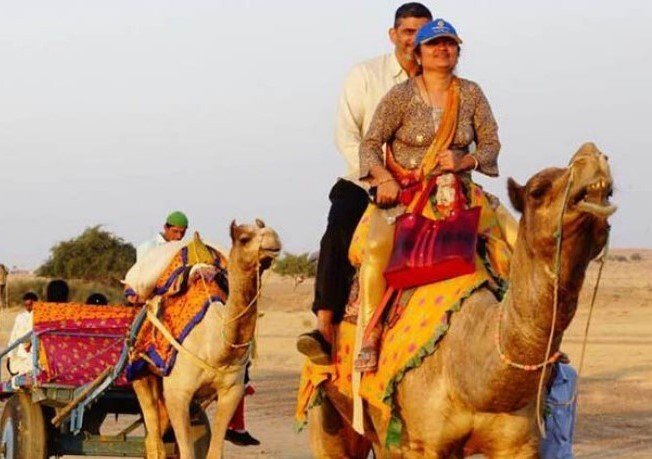 Camel Safari
The Great Indian Desert of Rajasthan can be explored using camels. Camel Safaris are certainly the ideal way to spend time exploring the rustic and royal Rajasthan, which includes the sandy fields, small dunes and mesmerizing sunrises and sunsets. So come and join us and have fun while enjoying on camel's back! Explore
Jeep Safari
If you think you are more on the adventure side then try the Jeep safari to explore the Desert in Jaisalmer. Jeep safaris are considered as a fast and comfortable way to explore the beauty of Jaisalmer. The Jeeps are used for the safari is generally 4 x 4 keeping the top open to enjoy every bit of the tour. Explore
Paragliding
Parasailing and Paragliding are quite similar to each other with the only difference that Parasailing is conducted on a open ground with a parachute tied to a Jeep. Whereas in case of paragliding, gentle hill sides are usually the launch sites for the performer. Best season for flying ranges from September to February. Explore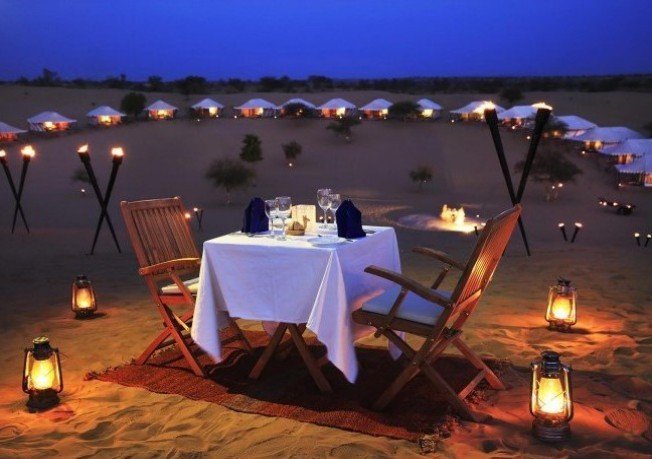 Dinner in Dunes
The Thar Dinner plays homage to the culinary traditions of travelers who crossed the Thar to Jaisalmer. The Thar Banquet represents the closedown of this trip in a celebratory dinner that is served to you in a collaborative ambient. Astral Blues, tasseled roofs, and mattress-style seating fabricate this the most comfortable. Explore
Tripadvisor Certificate of Excellence
1000+ Positive Reviews on TripAdvisor & Google
We take pride in our services and our reviews on TripAdvisor, Google and other OTAs are the proof of the effort we put to give outstanding service to our esteemed guests at Ratnawali Camps.
2022 RECOGNITION OF EXCELLENCE Ratnawali CampsHotelsCombined 9 Rated by Guests Ratnawali_Camps

Google Reviews
JAYANTA NARAYAN De
20. March, 2022.
This is a wonderful place with amazing service.Desert safari is just round the corner with all the fun and frolic.Food in the middle of the desert here was probably the most remarkable thing here courtesy Reshamji.Good experience overall.
Ankit Mackar
17. March, 2022.
One of the worst places you could possibly find in Jaisalmer. Bad rooms and there is absolutely no service or amenities
MADHUSUDAN MALPANI
14. March, 2022.
Very nice n beautiful Tents n cottages
sween godara
28. February, 2022.
Excellent place to visit... delicious food... highly recommended place...
DR SUNIL KADYAN
28. February, 2022.
This property is awesome... highly recommended place... excellent hospitality....yummy food...great cultural evening with local folk song and dance...DESERT Safari with Camel ride...what else you want... Don't miss to enjoy hospitality of Mr Resham Bhai...
Mohit Bansal
27. February, 2022.
The experience was quite okay, dinner got a bit off but breakfast was really well, desert jeep and camel safari was great that was included in the package, the folk program was also good, though the staff was drunk at night and didn't allowed us bonfire first which they allowed after we contacted the manager himself, though the other half of staff was quite supportive and helpful and well behaved. The arrangements were well maintained and everything was good at the end.....
Bhoomika Tolia
21. February, 2022.
Dinesh Bhati
21. February, 2022.
All good 👍
Surbhi Solanki
21. February, 2022.
Had really good time with ratnawali camp, enjoyed the stay, food and cultural program. View was amazing, and property was also beautiful. Also special thanks to Resham bhaiya who was there for all services.
ashok kumar
13. February, 2022.
Amazing camp
Copy to clipboard